Club News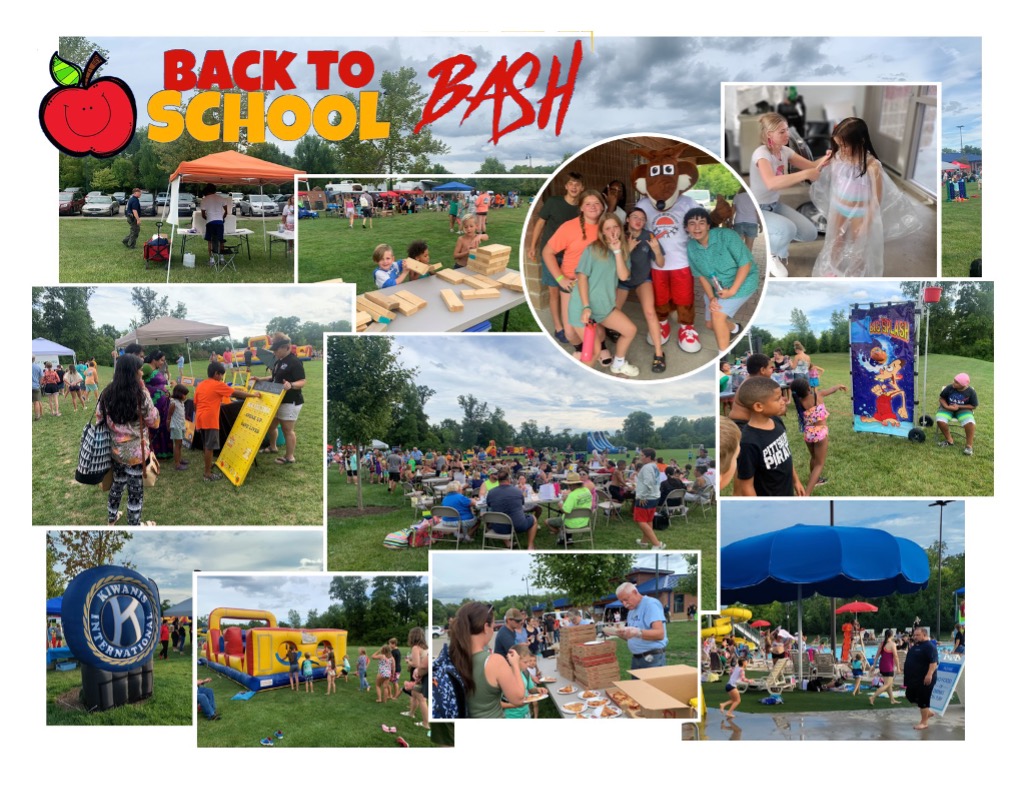 Talawanda Schools start a New Year with a BASH!
(8/29/22) A celebration of the end of summer and the beginning of a new school year has become a tradition in Oxford. The event sponsored annually by the Oxford Kiwanis Club, with the support of a wide range of community groups, offers a final salute to summer break while generating enthusiasm for getting back into the classroom. Each year the festivities have grown in scope and participation. By any measure, this year set a new standard for both.
Estimated attendance at the event on August 13 exceeded 700 individuals and 600 meals were served. Local barbers were on hand providing 55 free haircuts for kids heading back to school. Thread Up Oxford handed out 84 pairs of socks,120 pairs of underwear and 597 items of clothing to 65 people. School supplies were distributed as needed along with water bottles, dental hygiene products, books and other items passed out to families who were preparing for the beginning of the school year. All this, plus games, swimming, inflatables and community interaction was enjoyed by all in attendance.
The Kiwanis Club of Oxford extends a sincere thanks to the following sponsors for their contribution to the 2023 Back to School Bash:
Oxford Parks and Recreation/Aquatic Center, Coalition for a Healthy Community Oxford Area, Talawanda School District, McCullough-Hyde Foundation, Primary Health Solutions, McCullough-Hyde Hospital/TriHealth, Ohio District Kiwanis Foundation, Thread Up Oxford, Kiki the Barber, Gini Combs at Rose Room Salon, and barber Joe Foltz.
---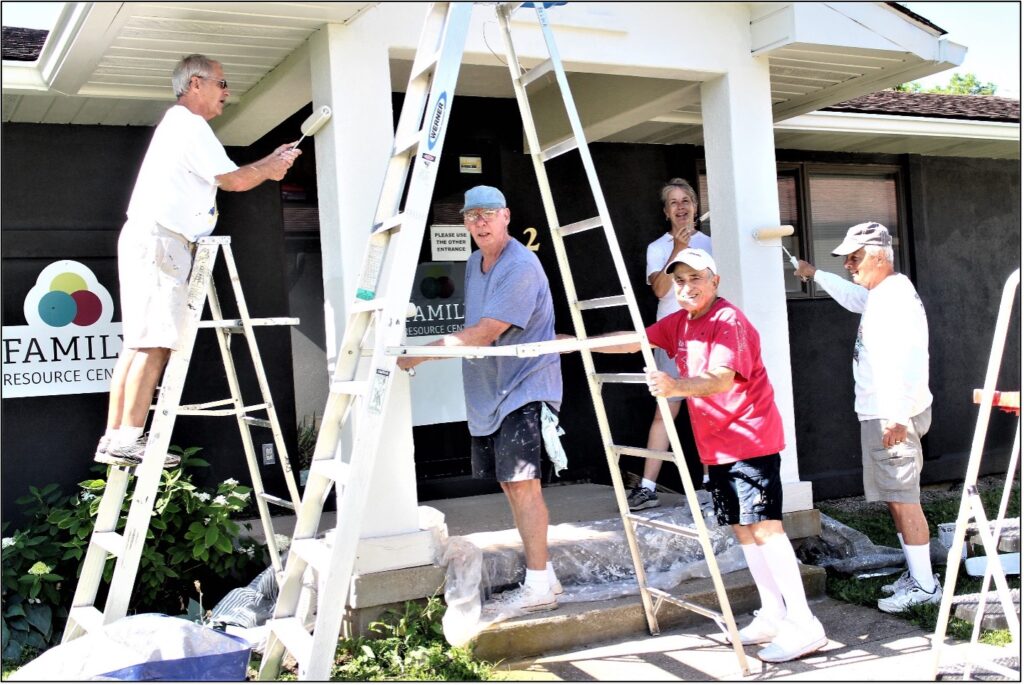 The Kiwanis Club of Oxford continues to support the Talawanda Oxford Pantry and Social Services
Oxford Kiwanis has traditionally supported the Talawanda Pantry and Social Services (TOPSS) in a wide variety of ways and this year was no exception. During the summer, fourteen Kiwanis volunteers completed the exterior painting of the TOPSS food service building located at 5445 College Corner Pike, Oxford, OH. The task was complemented with the added cooperative support of the Oxford Rotary club which donated paint, rollers, and additional painting work while some members of the Oxford Lion's club joined the effort as well. The collaborative project was accomplished with volunteers donating over 200 congregate hours of sanding, brushing, rolling, and sweating over a period of approximately six weeks. Work hours were typically confined to small groups in the mornings and evenings to avoid the midday heat and to take advantage of available shade when possible.
The project originated through the efforts of Kiwanis Community Service chair Dave Belka and Nicola Rodrigues, Director of the Family Resource Center.
---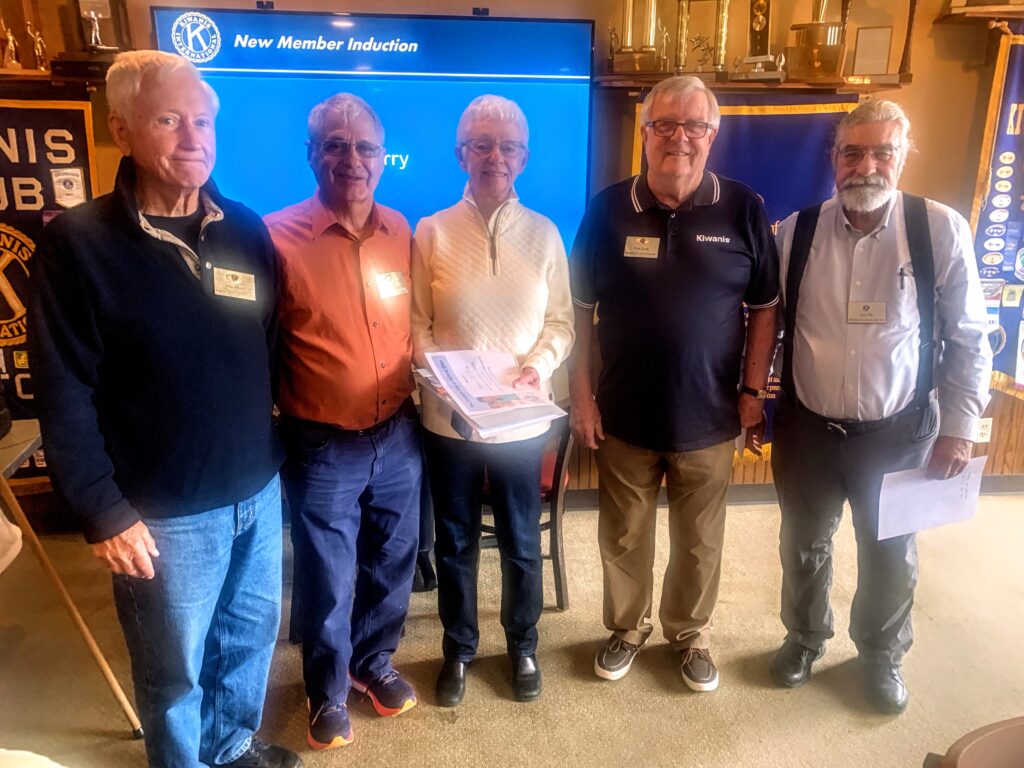 Sue Forry …Our Newest Kiwanian
Sue Forry was born in Cincinnati and spent her early years in Columbus and then in Indianapolis. She has spent the last 46 years in Zionsville, IN. and has served as a business administrator for 20 years in addition to her extensive volunteer church experiences. She has focused on inner-city projects involving the reduction of violence in Indianapolis, supporting the local food pantry, and participating in a number of school and children's activities.
Sue and her husband, Jim, moved to Oxford in 2021 to be close to her daughter and family.
They are members of Oxford's Methodist Church and in her spare time Sue enjoys walking, gardening, and exercise. Her passion is finding ways to help others.
---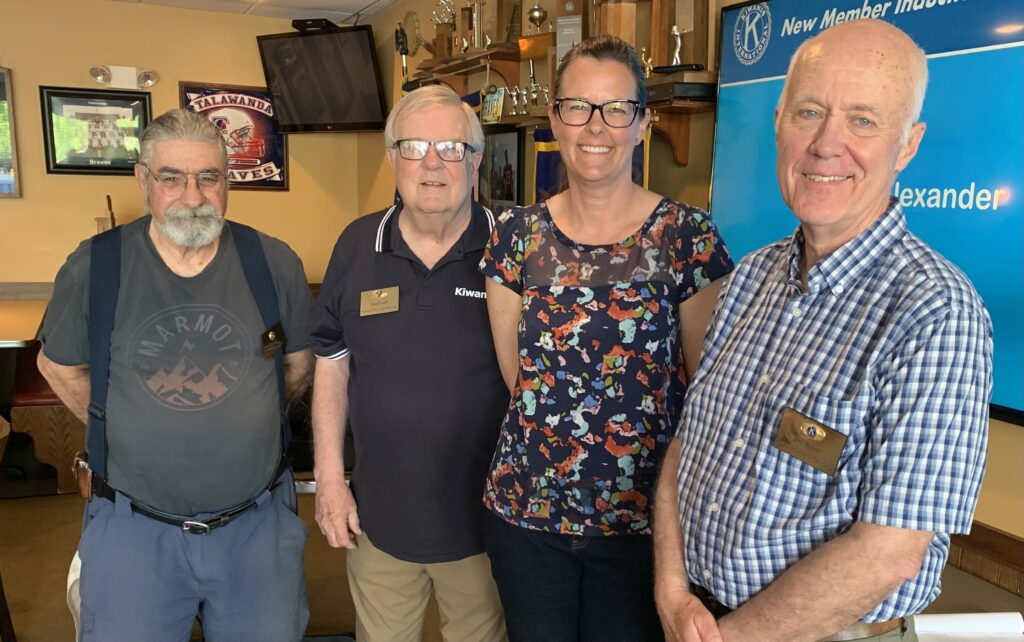 Kiwanis Welcomes Amanda Alexander
Amanda Alexander is the newest member of the Kiwanis Club of Oxford, having joined the
faculty of Miami University in 2022 as Chair and Professor of Art. She previously served on the faculty of the University of Texas, Arlington for ten years after earning a BS degree in Business from Indiana University in 2000 and a Ph.D. in Art Education with a focus in Arts Administration, Education and Policy from The Ohio State University in 2010. Her husband Jason is a chiropractic physician who has set up practice in Oxford as Peak Performance Chiropractic. Amanda and Jason are both committed to contributing to the community through civic service.
---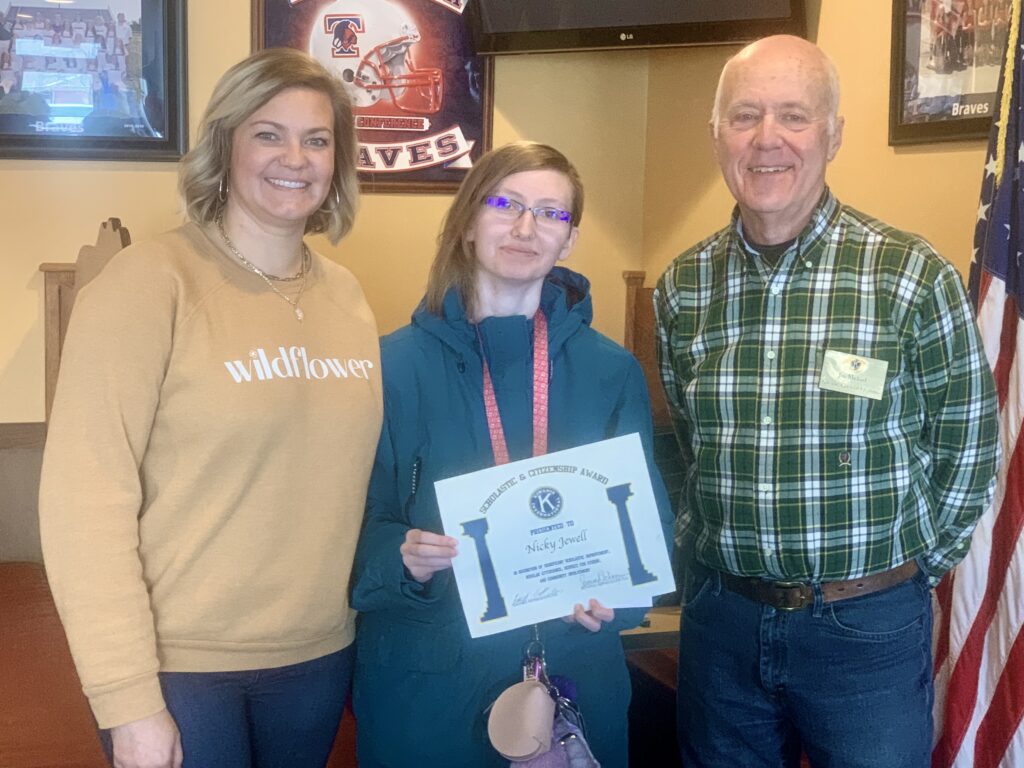 Nicky Jewell Receives Kiwanis Scholastic & Citizenship Award
The Kiwanis Scholarship and Citizenship Award is extended each term to a Talawanda student to recognize special efforts and accomplishments of those who have faced challenges and have been able to overcome them. Nicky Jewell is an exemplary example! Although being a very gifted academic student, Nicky has coped with family struggles throughout the high school experience. As a result, trying to balance an overwhelming employment schedule with the requirements of academic courses has been particularly challenging. Working with THS counselors, Nicky was able to arrange a schedule adjustment to accommodate some classes within the classroom while others could be addressed online. Credit for selected work experiences was additionally arranged. The adjustment has resulted in impressive academic excellence and Nicky looks forward to a promising future.
---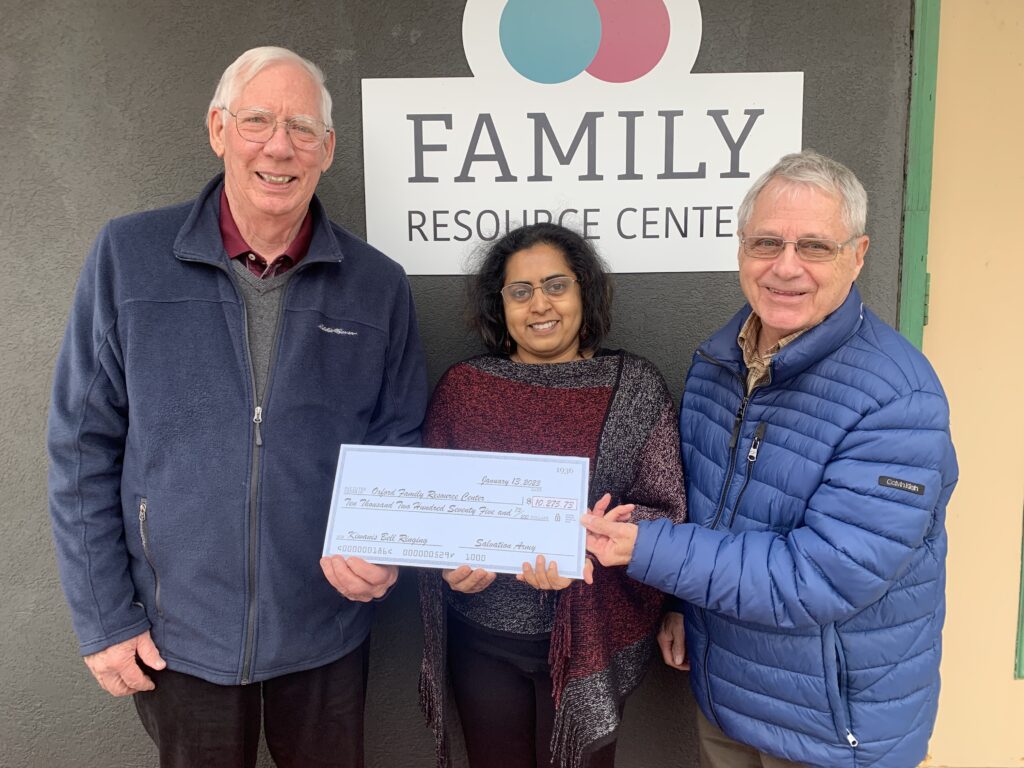 Oxford Kiwanis Bell-Ringing Project Is Truly People Helping People
This past holiday season marked the 21st year that the Oxford Kiwanis Club has sponsored the ringing of the bells for the Salvation Army in their efforts to help those in need. During this past season between Thanksgiving and Christmas volunteers were evident along-side of the obvious red kettles at each door of Kroger's to extend greetings of the season and offer shoppers an opportunity to contribute. And did they contribute! Customers extended their generosity to give a total of $11,422 during the ringing period adding to the sharing of Christmas cheer with those in need.
While this is a project FOR the community with 90% of the donations supporting the work of the Oxford Family Resource Center and 10% going to serve the broader needs of the Salvation Army, it is also a project BY the community including volunteers from throughout the Oxford area. In addition to the faithful Kiwanians responsible for planning, organizing, conducting and ringing, community volunteers of all ages stepped up to help. Students from the Builders Club at the Middle School, K-Kids at both Kramer and Marshall Elementary Schools, Key Club at the High School and one Brownie troop volunteered. Additional volunteers emerged from parallel organizations as well as individuals who simply wanted to assist in any way they could. The number of volunteer hours totaled 343.
Special thanks to Kroger's (and Manager Lauren White), LCNB Bank (gratis use of change counter and check writing for the counted amounts), First Financial Bank (gratis depositing and handling of donations), Kendra Fithen (Salvation Army liaison for communication and guidance), and Nicola Rodrigues (Liaison, The Family Resource Center).
Oxford continues to be a caring community where people help people.